September 21, 2023
A Day in the Life at Tyax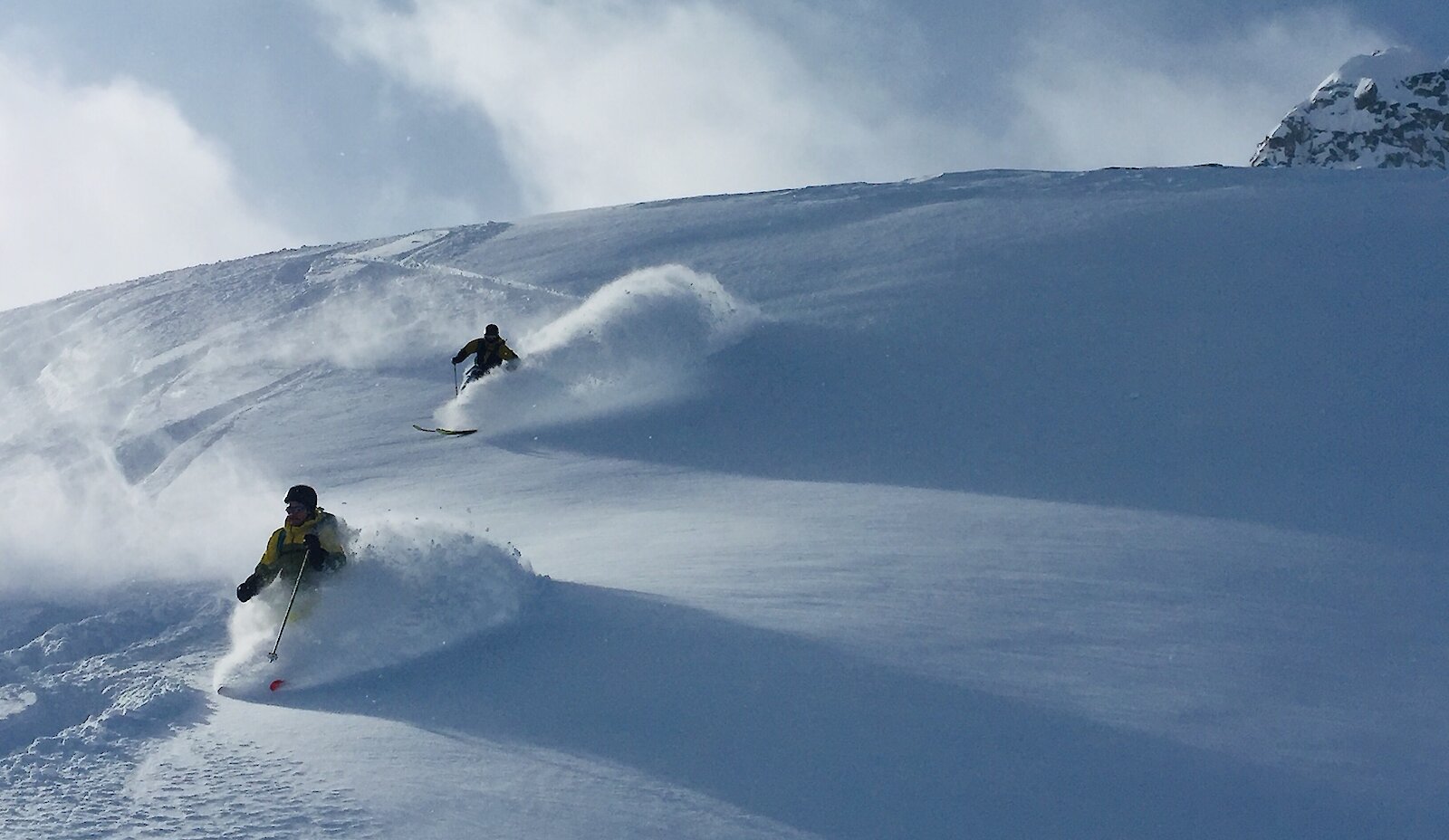 Few things beat the feeling of anticipation one gets the night before their first day of heliskiing. You've arrived at Tyax Lodge, gone through your safety briefing, unpacked your bags, and laid out your favourite pair of ski socks in anticipation of tomorrow's adventures. The next morning, your alarm goes off, waking you for what's sure to be a day to remember. Let the fun begin…
06:30
Optional stretching session. Roll out of bed and don some stretchy clothes to warm up with a guided stretching session. Focus will be placed on stretching out those ski muscles, getting you ready for the day.
07:00
Breakfast. Find your way to the lodge restaurant for a satiating buffet breakfast and a warm, comforting cup of coffee (or two). From there, find your way into your ski gear for lift-off!
08:30
Lift-off. Unlike most heliski operations where guests are shuttled from their accommodation to the nearest heliport, we launch from directly in front of the lodge. There's nothing quite like enjoying your last sip of coffee knowing that in just a few minutes, you'll be lifting off in a helicopter from the frozen Tyaughton Lake just in front of the lodge.
08:45
Ski! While you were up stretching and enjoying breakfast, your guide and forecasting team were hard at work assessing snowpack and weather conditions to deliver the best skiing available in our tenure. And for the next 8 hours of the day, that is exactly what you will be doing. Lap after lap, you will be churning powder with the best of them. And uniquely to Tyax thanks to our single group heliskiing program, your helicopter will already be waiting at the bottom of the run for you, reducing wait time and maximizing skiing. 
12:30
Lunch in the field. It's not every day you get to enjoy a hearty lunch in a sunny glacial valley, with nothing but mountain peaks making up the skyline. Today you will. Enjoy a packed lunch brought in by our team to keep your energy up for the afternoon's skiing.
13:15
Afternoon skiing. Hop back in the helicopter for an afternoon of more awe-inspiring, hoot-inducing laps as we continue skiing the best snow possible. If the group is skiing strongly and we surpass the allocated daily vertical; no worries! That's what true unlimited vertical is all about. We keep skiing, with not a single extra metre billed. 
16:30
Lodge return. Before the sun goes down, we'll finish our last lap and get you back to the lodge in time for apres. Unload from the helicopter on the lake, and head back towards the lodge. Slip off to the boot room, shed your gear and find your cozy lodge clothes. On your way to your room, maybe find yourself a warming shot of espresso, or a shot of something stronger…
There are still a few hours until dinner, so take the time as you please. Relax with a book fireside, enjoy a massage from our on-site masseuse, or make your way to the spa for a treatment or sauna session. 
19:00
Dinner time. Join the rest of the guests and guides for a full meal, fit for someone who's just spent the past 8 hours skiing the best lines of their life. After dinner, the evening is yours. Perhaps you'll hang out in the dining room a while longer, trading stories with other guests, or you'll migrate towards the bar and play a few games of pool or a round of darts. Eventually, however, everyone will make their way back up to their rooms, warm, full, and satisfied, knowing that they get to do it all again tomorrow.