February 2, 2023
Skiing the Gods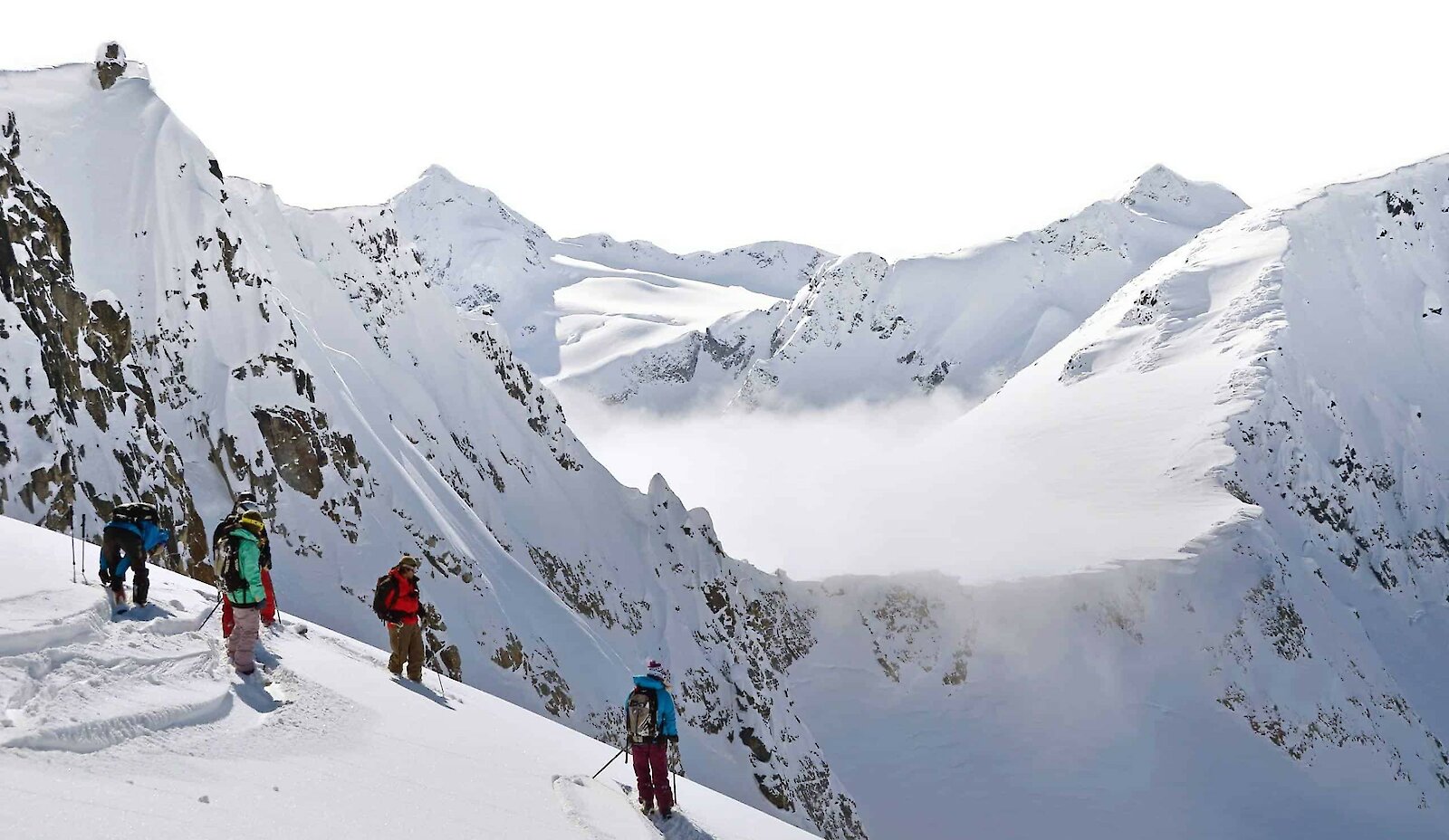 There are places in this world that leave you breathless the first time you see them. Words fail. The hair on the back of your neck stands up, and you sit up just a little taller in your seat. 
There is such an area nestled within the Tyax tenure that fits this description. The zone is called The Gods. Long before you see them, you will hear them calling. You might hear stories from other guests in the lodge about their time with The Gods in seasons past, or perhaps someone may have asked about skiing them during a morning briefing with your guides. 
The zone sits squarely in the middle of the Tyax tenure. From the lodge, it's a 15-20 minute flight to the top of the runs, depending on the wind direction. On approach, there is a palpable feeling of anticipation. Your first glimpse of the range reveals rugged, glaciated peaks. The sense of scale is astonishing. 
Runs in this zone are aptly named; Hercules, Hermes, Aphrodite, Apollo, Achilles, Athena, Pegasus, and Zeus among them. When the conditions are blower, which they often are, there are few places in the tenure that are better to ski. 
The Gods are located to the east of large glaciated ice fields, meaning that moisture coming off of the Pacific cools rapidly as it reaches them. When the snow comes, it comes cold and in large quantities, and it falls on runs that are at a high elevation. The tallest among them at 2700m. This means knee-deep champagne powder, lap after lap. Heavy coastal snow this is not. 
Butterflies in your stomach are standard when you clip in at the top of one of these runs. Zeus, for example, stands well above 2500m. It is over 11,00m long and offers 500m of unbroken vertical skiing on a 40-degree planar slope through the middle of the run. Hermes is 400m wide and rests between two rock walls. As you descend the run, you'll ski past massive cliff faces and vibrant blue seracs. 
In this area of our tenure, landings are high and descents are long. Heli bumps back up to the top are quick, allowing you to ski hard and accumulate vertical rapidly. Guests can expect to regularly ski 800m to 1100m of unbroken vertical in a single run, stopping only once or twice to regroup. 
It's difficult not to sound cliche when describing the skiing The Gods, but take it from our team. When asked about what makes the skiing so special, Guide and Operations Manager Tyler Petrusic put it best; "The feeling of awe doesn't dissipate. It literally leaves guests and guides at a loss for words no matter how many times they've been out there before."
Make your mark on these legendary slopes. If you would like to ski among The Gods with us this season or next, connect with our Sales team by following the link below and submitting an inquiry. 
We look forward to skiing with you soon.