Where Mountain Biking Belongs
The Chilcotin Plateau has long been an iconic destination for adventurous riders. From the rolling alpine landscape to the rich network of singletrack, this place was made for mountain biking. 
 
The Trails
Never Ending Singletrack
Over 200 kilometres of trail through some of the most awe-inspiring landscapes on Earth. This is bucket list riding.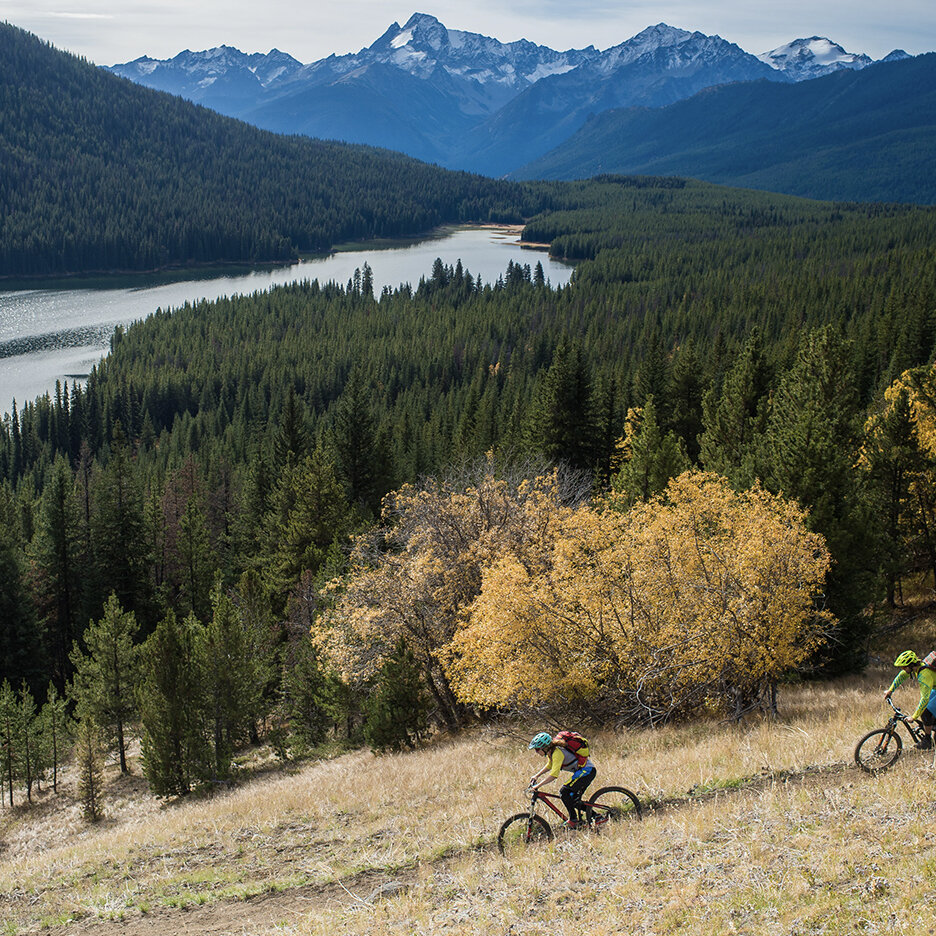 Terrain
From Valley to Peak and Back
Rugged, rough, and raw, the riding in the South Chilcotins is as wild as it is freeing. Explore green grasslands, alpine meadows, and rocky peaks all on one trail. One of many, many trails. 
 

The South Chilcotins carry a reputation for a reason. Rugged and raw are words often used when describing a day in the mountains here. Long days are the norm. The 200+ kilometres of trail take in an array of different ecosystems: green grasslands, flowering subalpine and alpine meadows, glacial lakes, and towering mountains.
Overall, the trails are rocky and loose, due to the region's pumice rock. They are in mint condition after a light sprinkling of rain. During dry spells, the lower trails can become dusty, with the trails at higher elevations retaining more solid dirt. A basic level of backcountry competence and navigation ability is recommended to explore the area unguided.
The trails are based in South Chilcotin Mountains Provincial Park and generally exist on both Crown land and unceded territories of the St'át'imc Nation. These trails are developed and maintained by largely volunteer-based organizations. We strongly recommend donating via the Trailforks Trail Karma program.
Routes and Loops
Refer to Trailforks for trail information and loop suggestions. Our partners at Tyax Adventures also offer guided rides.
Fitness / Ability 
The terrain in the region is technical and experience on the mountain bike is a must. We recommend riders are of an advanced ability. If you're confident riding blue and black trails in your local area, then you have what it takes to mountain bike in the South Chilcotin Mountains.
It's best to arrive at Tyax Lodge fit and injury-free. The trails are spread out across long, undulating landscapes, requiring a good level of fitness and a great command of your dropper-post. Hike-a-biking is a frequent feature of the riding in the region.
The Bike / Packing List
We recommend an all-mountain/enduro bike for the terrain around Tyax Lodge. We find they're the ideal choice for mountain biking in the South Chilcotins. There's a good mix of pedaling and descending, so it's great to have a bike that is capable of doing both.
It's very important that your bike is in great working order and recently serviced. You'll be riding in some of the most remote terrain that you're ever likely to be in. Spare bike parts and bike mechanics in the region are limited. It is strongly recommended you bring with you all the replacement parts you may require and the tools you will need. Make sure your bike won't let you down. We cannot stress this enough. This is real adventure riding.
Note that there is limited cell service in the region with the exception of WiFi at the lodge. Downloading maps and routes in advance is highly recommended.
A fully stocked day bag is crucial. We recommend the following essentials. Add whatever else you like to tailor gear to your riding style:
Helmet
Water bottles/hydration bladder (filter or water treatment tablets)
Rain jacket
Base layer
Knee pads
Adequate nutrition for a full day excursion (packed lunch options available from the lodge with advance orders)
Riding glasses
First aid kit
Bicycle repair kit (spare tubes, chain breaker, tools, pump…at a minimum)
Bear spray
SPOT device or equivalent
Phone or camera
The Lodge
Use Tyax Lodge as a homebase to launch your Chilcoltin epic. A bike wash station is available at the lodge, as well as delicious dining options. Tyax Lodge boasts a spa on-site with an outdoor hot tub, sauna, steam room, and stretching room for those who wish to take their recovery to the next level. Speaking of recovery, there is no better feeling after an epic alpine ride than the first sip of a cold beer on our patio or a relaxing massage treatment in the spa. After you've replenished calories, retire to your room for a well-earned rest. Our lodge rooms are spacious and our queen beds feel heavenly compared to your saddle and chamois. Not to mention the lake steps from your door if you prefer cold-water therapy. Dive in with Tyax.