An idyllic lakeside wedding venue
Resting on the calm shores of Tyaughton Lake against the picturesque backdrop of the Chilcotin Mountains, Tyax Lodge offers a striking mountain resort wedding destination to say your "I do's". Enjoy absolute seclusion at Tyax Lodge with a full resort buy-out, allowing you to celebrate your most special day with those who mean the most to you. Or, opt for a more modest ceremony with a private chalet reservation. 
With our incredible scenery, lodge rooms and chalets to accommodate up to 100 guests, exquisite dining, and numerous options for your reception, our lakeside resort is the perfect place to celebrate your wedding day and make memories to be cherished forever. 
A World all your Own
Only a 6-hour drive from the hustle and bustle of downtown Vancouver and 4.5 hours from Kamloops, guests can leave the city behind and experience the incredible beauty of true Canadian wilderness. Tyax Lodge is truly one of the most scenic wedding venues in British Columbia.
Lodge Amenities
Escape the city without leaving any of its comforts behind. At Tyax, there's something for every guest, from children to grandparents. All guests of the lodge can enjoy full use of our complimentary watercraft and spa services (perfect for a relaxing afternoon for the bridal party). If you need more inspiration, look no further than our summer activities page.
Planning is our Specialty
Make your way to the lodge and we'll handle the rest. From the moment you choose Tyax as your venue to the last call at the reception, we work hand-in-hand with you to turn your dream wedding into a reality. Led by Grace McAuley, our in-house Events & Logistics Manager, our team will work in lockstep with you to make the planning process as easy as possible. 
An Incredible Venue
Imagine, you and your partner's respective wedding parties each preparing on your wedding day in rustic chalets, stepping into the sunshine on the shore of a pristine mountain lake, and taking your vows lakeside after a short walk down our perfectly manicured grounds. At Tyax, we make sure your ceremony is truly unforgettable.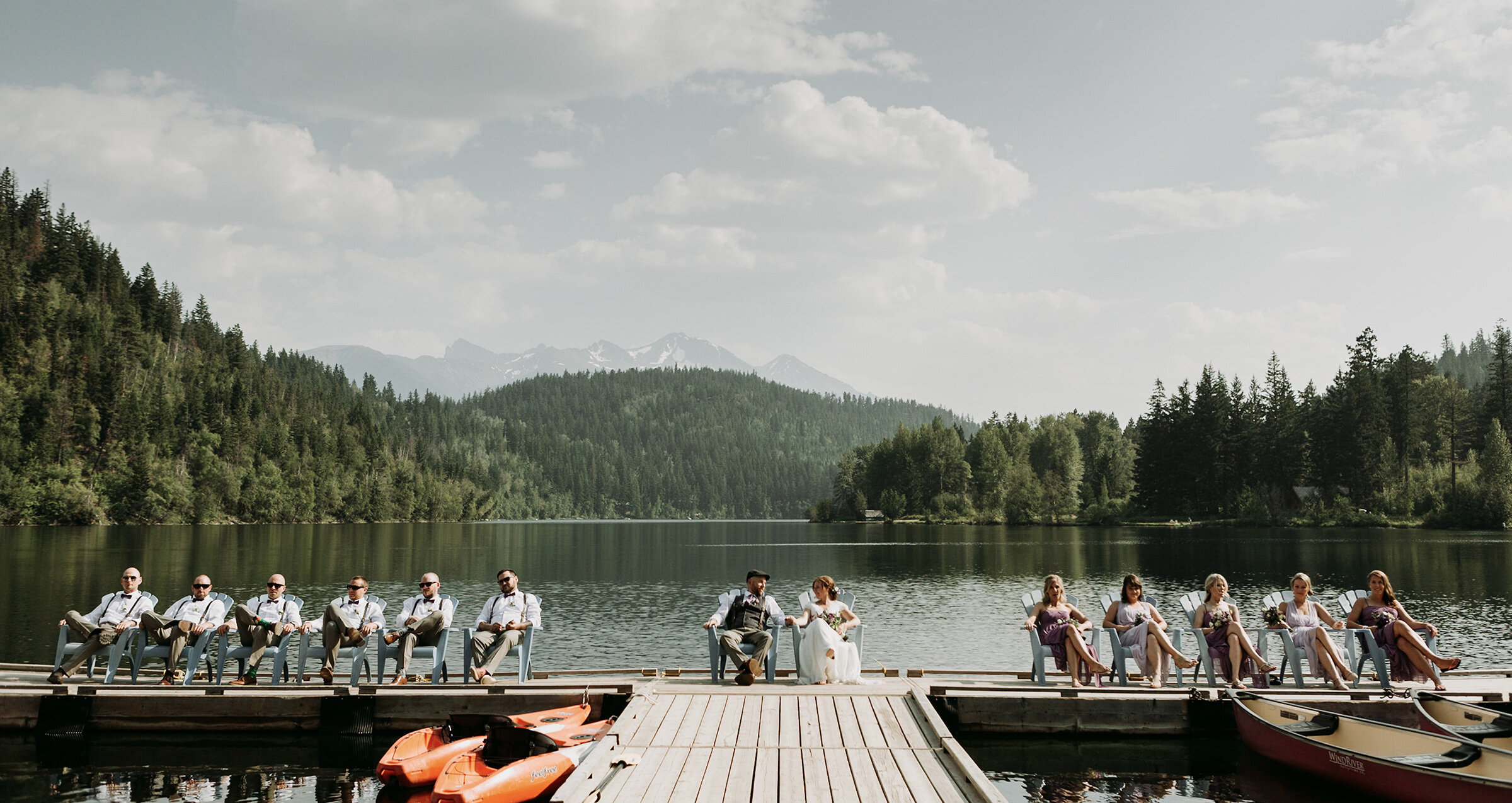 01 / 06
Tyax Lodge
Host your reception in our grand, timber-framed lakeview dining room. After enjoying a delicious meal of elevated cuisine, continue the reception in our adjacent lounge which features a full-service bar and wrap-around patio. 
Full set-up and tear-down services are included in your package. We provide round tables, white folding chairs, white linen, tableware, cutlery, a head table, an in-house sound system, and a dance floor area.
Capacity for up to 100 guests
Dinner in the incomparable Tyax Dining Room
Reception in the nostalgic lounge
A full-service bar, in-house sound system, and dance floor
The Barn
What better way to celebrate a wedding in the Chilcotins than a party in a barn? Combine the luxury of a reception dinner in the Lodge with the rustic charm of dancing the night away in the Barn. We offer the exclusive option to secure both venues for your wedding. 
We provide round tables, white folding chairs, white linen, tableware, cutlery, a head table, a DJ booth, a dance floor area, fairy lights, and romantic fabric hangings.
Welcome up to 70 guests
Dinner in the incomparable Tyax Dining Room
Reception in newly-renovated Barn
Open-air bar, DJ booth, and dance floor
Spirit Bear Chalet
Spirit Bear Chalet, resting on the water's edge, is a perfect option for those who wish to host a private, self-catered wedding at Tyax Lodge. 
The 9-bedroom chalet is ideal for an intimate wedding of 20 to 40 guests. If needed, Tyax Lodge can provide set-up and tear-down of 62" round tables, white folding chairs, and white linen.
Cuisine
An incredible day deserves an incredible meal. Our chef has created a wedding menu with inspiration from the land around him. He only uses fresh, local, in-season ingredients to design a menu for you and your guests. As such, the menu is constantly changing and evolving. We're pleased to offer an elevated, family-style dinner. 
*We can accommodate all dietary restrictions, including vegetarian, vegan, and gluten-free. 
Wedding Packages & Extras
Tyax Lodge is your gateway to the Chilcotin Mountains and the perfect venue to customize your wedding weekend however you please. We work closely with Alanna Govenlock, a local photographer who specializes in photographing weddings and is intimately familiar with shooting at Tyax Lodge.
Perhaps it's a mountain bike shuttle for the wedding party before the big day or a horseback sightseeing tour for the family. Whatever your wedding needs, we will be happy to help plan it.
Wedding Inquiries